I just love how my floor turned out. It's definitely got a funky Anthro vibe and I'm so psyched. I'd live in Anthro if I could. It's my go to place when I need a little retail therapy and creative goodness. That's the look I'm gonna carry through my dressing area into the bedroom. (ssshh, the rest of the rug has got to go!)
I'm not going to give you all the details right now because I'm passed exhaustion and have superbowl company coming!! So here's the quick lowdown, I'll give paint colors, etc. soon.
First I primed and then painted a light golden color
Then we (your some help buddy) got out our little artist brushes and painted all kinds of streaks and knots
Then we mixed our glaze
(details to follow)
(sorry for the poor quality iphone shot) I just brushed on the glaze with the giant brush until I liked the depth of color and dragged the brush from the outside edges in to minimize the brush marks.
How great is that???? Like a funky old farmhouse great!! Patting myself on back and jumping up and down great!!
It's funny but the inside of the closet turned out a bit better. I think I was soooo tired by the time I got out here. I was going to wipe the glaze off and start over but decided against. I'm going to put a rug here anyway.
As you can see I still have a lot of work to do but I'm ecstatic with the results!!!
Just noticed I misspelled Anthro. Guess I was tired!!
I'm soooo excited!!!! I was featured on the DIY Showoff!!!!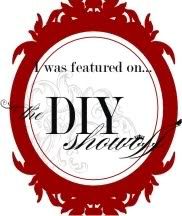 also linked up.....